Discover more from For Dear Life with Maggie Smith
A newsletter about writing & other things that make this life dear—from the poet, not the dame
Over 19,000 subscribers
Hi, Friend.
Well, this news hasn't sunk in yet, but here goes: You Could Make This Place Beautiful is a New York Times bestseller. An Ohio poet's (decidedly feminist, undeniably lyrical) memoir is #3 on the hardcover nonfiction list.
No hard feelings, Harry.
I thought maybe I could sleep on it, and it would feel real this morning. I didn't, and it doesn't. I'll need some time before I can be articulate about it, but I can say this now without a doubt: We did this. Whether you preordered the book, requested it from your library, came to an event with friends, bought a copy or two or three for people you love, or just helped spread the word—thank you. I hadn't even allowed myself to dream of this, but here we are.
Huge thanks to my editor Julia Cheiffetz at One Signal, my agent Joy Tutela, and the whole team at Atria. In the last few years we've worked together on Keep Moving, Keep Moving: The Journal, Goldenrod, and now You Could Make This Place Beautiful. And I only just met all of these magic-makers in my life in person in New York last week!
If you follow me on Instagram or elsewhere on social media, you probably saw some photos from week one of my (very first in-person) book tour. My hometown launch with Gramercy Books at the Drexel Theater followed stops at Books Are Magic in Brooklyn, Parnassus in Nashville, Politics & Prose in DC, White Whale Books in Pittsburgh, and Magers & Quinn in Minneapolis. (Nothing gives a neighborhood a quality-of-life-improving glow up like an indie bookstore, am I right? Please shop indie and support these small businesses.)
Thanks to Leslie Jamison, Mary Laura Philpott, Kate Baer, Irina Reyn, Jeannine Ouellette, and Saeed Jones for joining me and bringing their brilliance, generosity of spirit, and wit with them. Those conversations were gifts. Huge thanks to Megan Stielstra, who I'll be in conversation with this weekend in Chicago, because her mind and heart and editorial wisdom are all over these pages. Megan: thank you.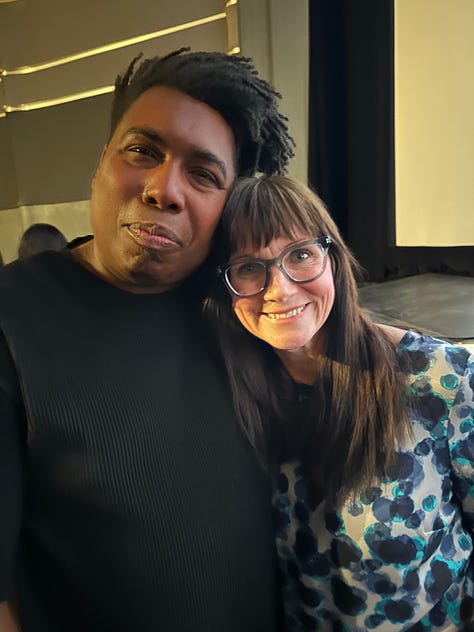 A special note of gratitude to writer Ann Patchett, whose Nashville bookstore Parnassus is a favorite of mine. She selected YCMTPB for her Signed First Editions Club, which means I signed 1200 copies for members. Below is the letter Ann sent to each book club member with a signed copy. Just…wow. A keeper.
No matter where I am, maybe the best part of each event is chatting with people as I sign their books. That time is brief but meaningful. Over the last week I laughed a lot, cried a little, and met some friends IRL for the first time. (I'm traveling again this weekend and next, so check out the tour schedule, which I'll be updating with additions again soon, and do come if I'm in your neck of the woods!)
I think of this memoir as an argument for possibility. This morning, still bewildered by the news and by how far the book is traveling, I believe more than ever that anything is possible. Anything. Thank you for that.
What a dear life it is. See you soon, I hope.
With gratitude,
Maggie
For Dear Life with Maggie Smith is a 100% reader-supported publication. To receive new posts and support my work, please consider becoming a free or paid subscriber.