Discover more from For Dear Life with Maggie Smith
A newsletter about writing & other things that make this life dear—from the poet, not the dame
Over 19,000 subscribers
Hi, Friend.
Every month I like to share some of the things that are making this dear life especially dear. What's bringing me joy right now? Glad you asked.
You Could Make This Place Beautiful is out in the UK today with Canongate Books! I'm grateful to Jamie Byng, Jenny Fry, Helena Gonda, Anna Frame, Catriona Horne, and everyone at Canongate. (And thank you for welcoming this book so warmly, for telling your friends about it, for giving it to people who might need it…word of mouth, reader to reader, is the secret sauce, isn't it?)
What else? I found a tiny cardinal feather in my backyard and picked it up before it floated away. Beauty emergency! It now lives in a tiny bowl in my office, where it makes me unreasonably happy.
I've absolutely INHALED a few books recently: Hannah Pittard's memoir We Are Too Many, which you can and should buy RIGHT NOW; Sarah Manguso's forthcoming novel Liars, which you need to hunt down next year; and Melissa Crowe's stunning new collection, Lo, winner of the Iowa Poetry Prize.
And please do read this poem by Catherine Barnett, "Son in August," from The New Yorker archives. It was making the rounds recently, as parents dropped their kids off at college for the first time. (My kids just started fifth and ninth grades, and this poem walloped me all the same. OOF.)
Fall's here and school's started again, so we're getting up early, but I swear a cozy bed helps even this on-again-off-again insomniac sleep. These are my very favorite sheets, and I snatched them up on sale.
If you've read You Could Make This Place Beautiful, you know my son's name was inspired by one of my favorite singer-songwriters, Rhett Miller. In August the Rhetts finally met over soundcheck and dinner before the sold-out Old 97s show. I can't even tell you what it meant to me. So much joy! See for yourself.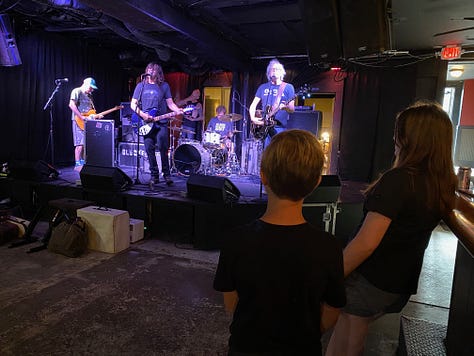 I went down an alt-country rabbit hole after seeing that terrific Old 97s show, so I've been listening to lots of Uncle Tupelo, Wilco, Son Volt, Golden Smog, Richard Buckner, Gillian Welch, etc. Music is a time machine, and these bands and records have taken me back to some many meaningful places.
What else have I been listening to lately, on my dog walks* and while I work? Andrew Bird, Hovvdy, Andy Shauf, Saintseneca, Widowspeak, Alvvays, Laura Stevenson, and Wednesday. What about you?
Craig Finn of The Hold Steady, when I recorded his podcast with him, asked if there are certain records that I attach to seasons. Is there anything more fall than Neil Young? (Listen to the podcast here; Craig and I had a great conversation about memory, writing, music, and more.)
Speaking of fall…I was honored by Bexley City Council recently for my contributions to the arts in the city (!!!), which was really lovely. They sent me on my way with a little bottle of Bexley maple syrup. Yes, I made buttermilk pancakes a few days later.
Fall is also a time when I switch out my summer perfumes (Henry Rose Gods & Monsters and Boy Smells Rose Load are two favorites) for ones that feel more like fall: Maison Margiela By the Fireplace and Memo Paris French Leather are my go-to scents when the weather cools down.
I went to a neighbor's house for his birthday the other night, and we all went around the table and said a word or two that we associate with him, and then why we chose that word. Generous, inclusive, kind, dependable. It ended up being an absolute lovefest, and everyone was in happy tears, and when we came home my daughter said, "We should do that again." So here's a fall idea if you have terrific neighbors, as I do: Invite everyone over for a bonfire, make some drinks and s'mores, and tell them what you appreciate about them.
I appreciate you. Thanks for being part of For Dear Life.
What's bringing you joy lately?
Wishing you more of it—
Maggie
*I recently caught myself talking to my dog on our walks the way I once talked to my babies—narrating the world, pointing things out, as I described in my poem "First Fall." When I realized what I was doing, I started cracking up. Babies are learning language—point to a flower, say flower—but my dog must be like, "Uh, okay, thanks?"
For Dear Life with Maggie Smith is a 100% reader-supported publication. To receive new posts and support my work, please consider becoming a subscriber.