Discover more from For Dear Life with Maggie Smith
A newsletter about writing & other things that make this life dear—from the poet, not the dame
Over 19,000 subscribers
Hi, Friend.
It's August. *sigh* Summer is just about over here—three weeks until my kids are back in school—and I'm both ready and not ready. I have a lot of writing to do, and a quiet house will help with that, but it's been such a fun and relaxing few months. Beauty emergencies daily!
Here are some things that have made the summer extra dear.
Favorite recent reads: Silas House on Jason Isbell in TIME, Hanif Abdurraqib on Sinéad O'Connor—may she rest in peace—in The New Yorker, and Monsters by Claire Dederer. I muttered to myself—yes! this exactly! so fucking smart!—and dogeared, underlined, and starred passages through this whole brilliant book.
Congrats to my friends Andy J. Pizza and Sophie Miller on their beautiful new picture book, Invisible Things, a New York Times bestseller.
On my excited-to-read-next list: Ruth Madievsky's All-Night Pharmacy, Sarah Rose Etter's Ripe, and Camille Dungy's Soil. (If you have book recs for me, I'm all ears!)
Speaking of books, some happy news: I'm delighted to share that Canongate will be releasing the UK edition of You Could Make This Place Beautiful on September 7, 2023. I am so impressed with them personally and am thrilled to join their exciting list. You can preorder now from your favorite bookshop or online retailer.
In preparation for the UK edition and my next book, My Thoughts Have Wings, out in February 2024, I desperately needed a new author photo. Thanks to Devon Albeit, friend and photographer extraordinaire, for coming to my house to take a bunch of shots one morning this summer. Here are some of my favorites. The framed drawing in our dining room ("When I grow up I want to be a poet like my mom") is one my daughter Violet drew in preschool. The banner is a line by poet Toi Derricotte, and it's hanging in one of my front windows. The photo where I'm cracking up? My son Rhett is just outside my office doors, making me laugh.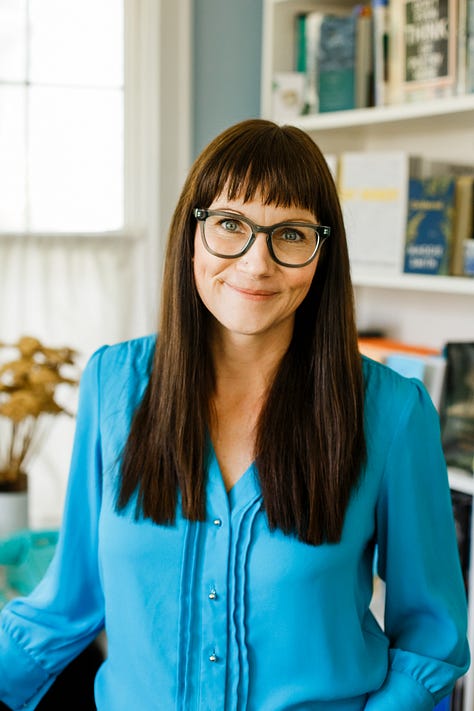 What I'm listening to: The Lion and the Cobra and I Do Not Want What I Haven't Got by Sinéad O'Connor, especially "The Emperor's New Clothes," a song I've listened to multiple times a week since I was thirteen years old. I'm going through a bit of a Waterboys phase, too, and the record Fisherman's Blues is in heavy rotation. I'm also dipping back into the Goldenrod playlist, since that book just celebrated its second birthday on July 27. (Listen and see if you can match tracks to poems!) My son is really into Harry Styles these days, but I also turned him on to Skullcrusher, so that's a win. Talk about stunning harmonies.
Delicious discovery: Three Bites Bakery in Columbus, Ohio. (My neighbor Barb brought over a box of pastries for us a few days ago and WOW, the Kouign-Amann in particular slayed me. I'm already planning a pilgrimage to the shop to try everything else.)
Also, for vegetarian here in town: Comune. Trust me. Great for cocktails and small plates, especially. Take a date or some friends and share.
A few little product recs: IGK Good Behavior spray, my go-to for combatting frizz during an insanely humid Ohio summer; paraania oil, which I use every single morning after I wash my face; this nail veil, which is impossible to mess up; and y'all, I needed a new welcome mat and found one (Midwestern interjection: on sale!) that reminds me a little of my book cover for You Could Make This Place Beautiful, with flowers inside the text, so I snagged it.
What else made me smile recently? Taking my kids on their very first flight—and enjoying a long weekend in NYC. (Favorite meal: LuAnn's Wild Ginger, which I try to get to every time I'm in the city for vegan hot and sour soup, etc. etc.) Juliana Margulies posting about my book [cue head exploding]. Watching season 2 of The Bear with my daughter. Having not one but two craft conversations with Kelly Sundberg—at the Columbus Book Festival and the Ashland University MFA residency. Teaching a weeklong generative workshop for the Fine Arts Work Center in Provincetown…virtually, from my office each day. The poems they wrote were incredible! Mini-golfing with my son and his bestie. Ann Patchett recommending my memoir on The Today Show [cue head exploding again].
Hope you're squeezing every last drop from summer. Hoping you're finding and opening some secret doors, too.
What's bringing you joy right now?
Wishing you more of it—
Maggie
For Dear Life with Maggie Smith is a reader-supported publication. To receive new posts and support my work, consider becoming a free or paid subscriber.